As 2023 rolls in, it feels like a good time to look back at the year that was. It's hard to imagine any years like the previous years (2019-2021). From the COVID-19 pandemic leading to lockdowns, travel restrictions, and the like to the plethora of canceled events including anime conventions it was great to finally be able to attend a variety of events in the past year.
Otakuthon, one of the conventions we had attended in the past several years was canceled for the 2020 and 2021 years. This was the correct decision with COVID-19 running rampant and being easily transmittable, it made a lot of sense to cancel for both those years.
As with Sakura-Con, Otakuthon was finally slated to return in 2022 but questions loomed large. Would people come back to conventions in 2022? Was there a large enough draw in Montreal? What would the organization look like? How would the venue deal with so many people? Well, these questions and more would quickly be answered when Otakuthon 2022 finally rolled around.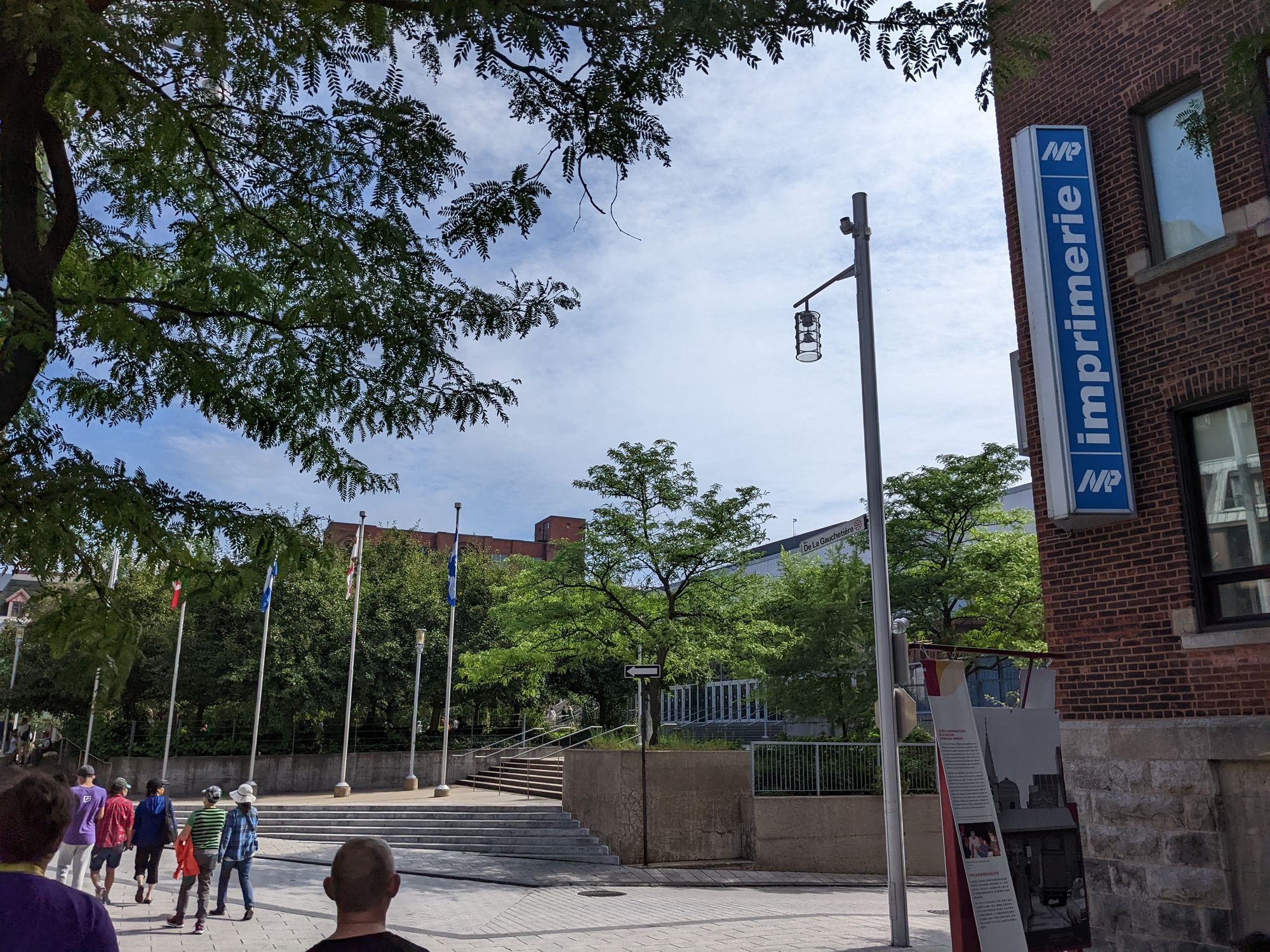 Otakuthon is probably the most unique major anime convention in Canada. One of the main draws is bilingualism as the event is conducted in both English and French, the two official languages of Canada. Of course, this event is held in Montreal, Quebec, where both English and French can handily be spoken. The venue is the Palais des congrès de Montréal in Downtown Montreal right in the heart of the International District. Not only can you visit the convention center here, but you can also see the sights with such destinations as the Notre-Dame Basilica nearby.
For an anime convention run in Canada, Otakuthon is certainly one of the largest with the only competition being Anime North in Ontario and Anime Revolution in British Columbia. On the technology side of things, Otakuthon is certainly ahead of the pack. They have used RFID-enabled badges for multiple years now and it has enhanced the convention experience. This did away with the need for extra tickets for events and made it easier for them to track attendance and deal with capacity limits. Not to mention, they also ship badges out ahead of time for a nominal cost making it possible to skip the registration lines entirely. We had our badges shipped ahead of time as we bought our passes online. However, we were also approved for media badges and were told to pick them up at the convention.
Let's just say getting these badges was a bit of an experience. The line itself was fine as the media and industry had their section for badges. The downside is that profiles were tied to each individual badge and they could not link our initial badges with the new media badges we were given. This meant they had to cancel our old badges and deactivate them when they handed us our media badges. We were offered to send in a request for a refund for the badges we initially bought but we decided against it. Otakuthon runs a tight ship and we don't mind contributing toward the convention experience. All things considered, the staff were very friendly throughout and extremely accommodating. We get it, registration is a lot of work and some fires need to be put out. This might have been a sign of things to come...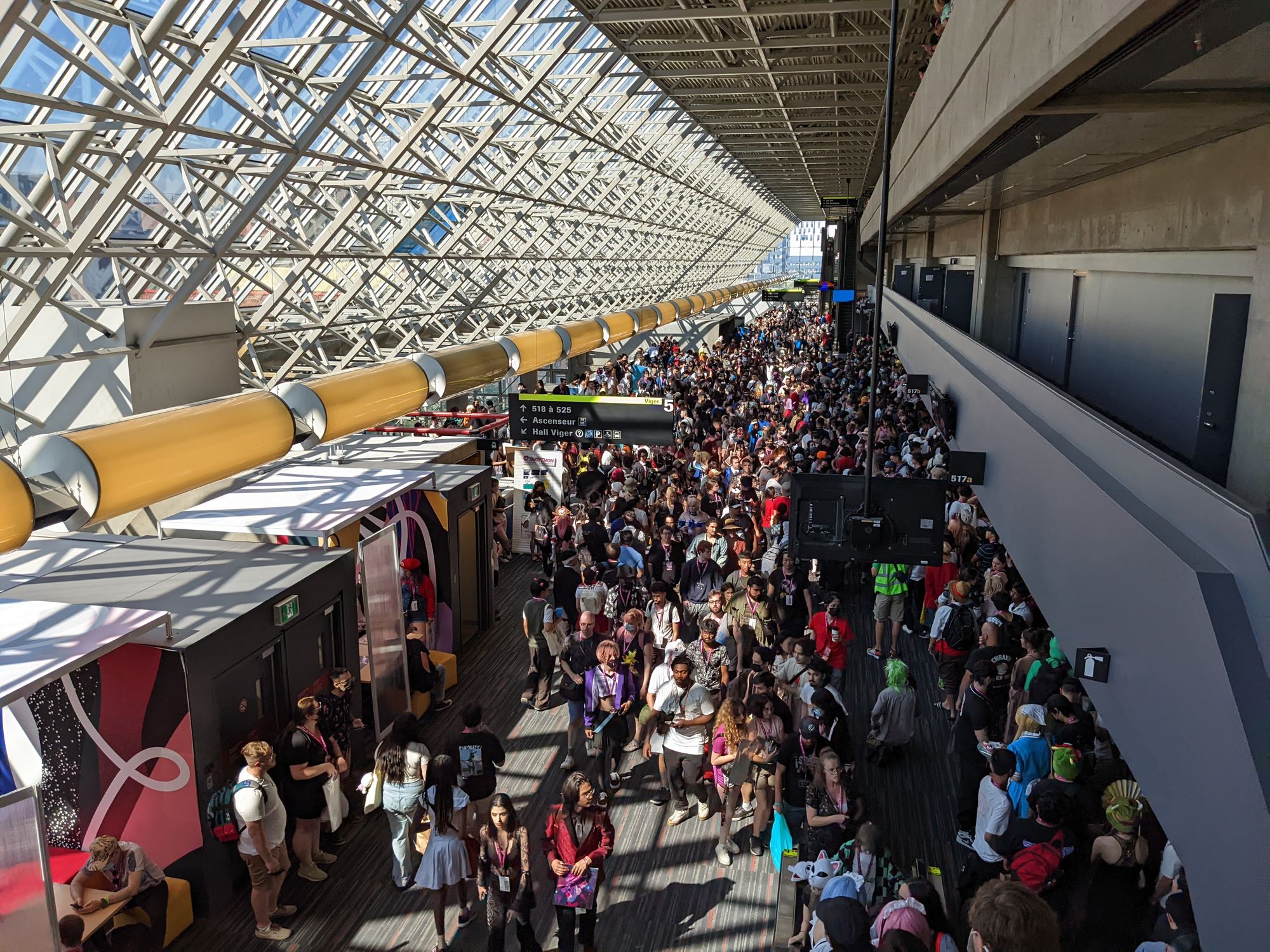 So, would people actually return to the convention? It turns out, similar to Sakura-Con, the answer was a very astounding yes. There seemed to be a pent-up demand for an anime convention and people turned out in droves. Imagine a deep-down hunger for an anime convention that could only be satiated by Otakuthon. The convention center was packed with people and lines were regular during the weekend. One type of line stuck out more than the rest and we'll cover it a bit more later on in the article. The upside was that the convention hall was quite big and also took up multiple floors making it a little easier to space things out.
Given that the guest list is a big factor for people deciding to attend an anime convention, Otakuthon regularly boasts a pretty good guest list. There were fewer Japanese guests compared to previous years but that's to be expected with the tighter restrictions in Japan and general travel hesitancy. The biggest guests of this year were likely NIJISANJI EN as they brought in Elira, Enna, Millie, Nina, and Rosemi. There were also a variety of other voice talents and musical guests as well. The two musical guests were at-home cafe and blank paper.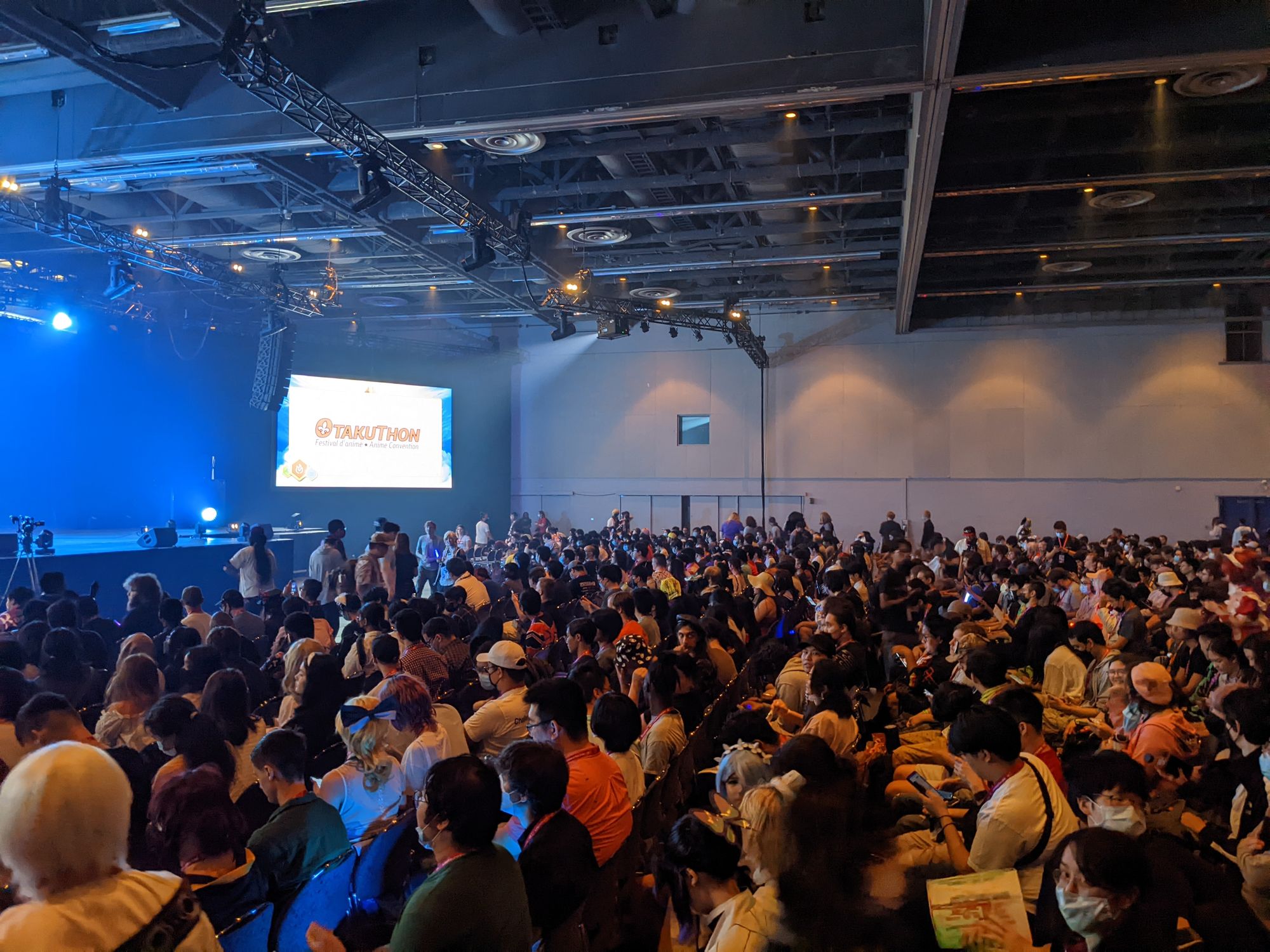 What was the convention experience like? Honestly, it was pretty great. The vibes of a larger convention with fewer lines than those mega-sized ones. Most of the event halls were paced for major events and concerts. The NIJISANJI EN felt more like a collab live stream rather than an actual concert due to the way it was displayed and the sound system. To say it was scuffed would be a bit of an understatement. I guess that's part of the V-Tuber charm?
For all the praise we've given, there are still things to work on for future Otakuthons. First off, they need to figure out the sound staging for the main concert hall. They've held concerts in different parts of the building before and some years have been better than others. It might be worthwhile to invest in a better concert venue in the future or at least have it set up better.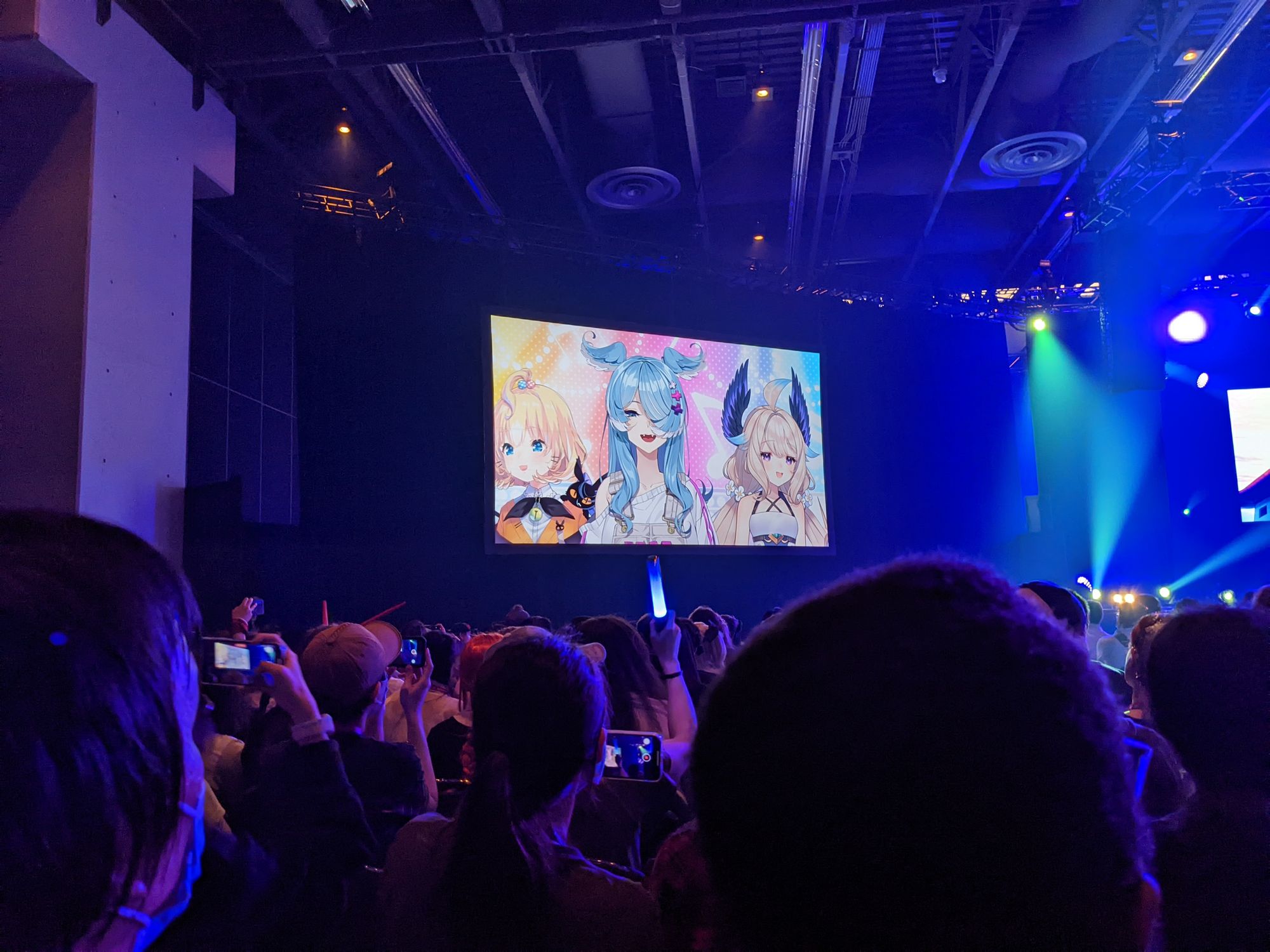 Given the guest list and arguably the most popular guests being the NIJISANJI EN talents, you'd assume they would feature them with a longer waiting area for both their autographs and their events. Well, you know what they say about making assumptions? Don't make them unless you're absolutely sure.
If you've ever seen people wait in line at major conventions for autographs, you've probably seen the scene here. Long lines of people waiting before the autograph session starts combined with staff unprepared for it made what we saw and heard a painful experience. We heard that the organizing committee did not think the NIJISANJI EN would be the most popular for autographs and boy was that ever a blunder. People would line up early to try to get in line knowing it would be busy only to be sent away by being told that they couldn't line up yet. Another set of people would do the same thing and not get sent away. Needless to say, it took people hours to even get inside the autograph room to even see if they'll get a shot at getting an autograph.
In the future, they should look into either capping autograph lines so people don't wait for hours in a futile attempt to get an autograph. It would help both the guests and the people hoping to get an autograph. The NIJISANJI EN ended up spending a lot of their free time at the booth to help alleviate the pressure by signing additional autographs. Unfortunately, they couldn't make it to everyone through no fault of their own. They already went above and beyond what was expected of them.
Luckily for us, we were able to score an autograph that was sold after the concert. They set up a table outside that sold exactly 50 autographs and they announced it at the end of the concert. Imagine telling people not to run to try to get one. (Spoilers: they did run.)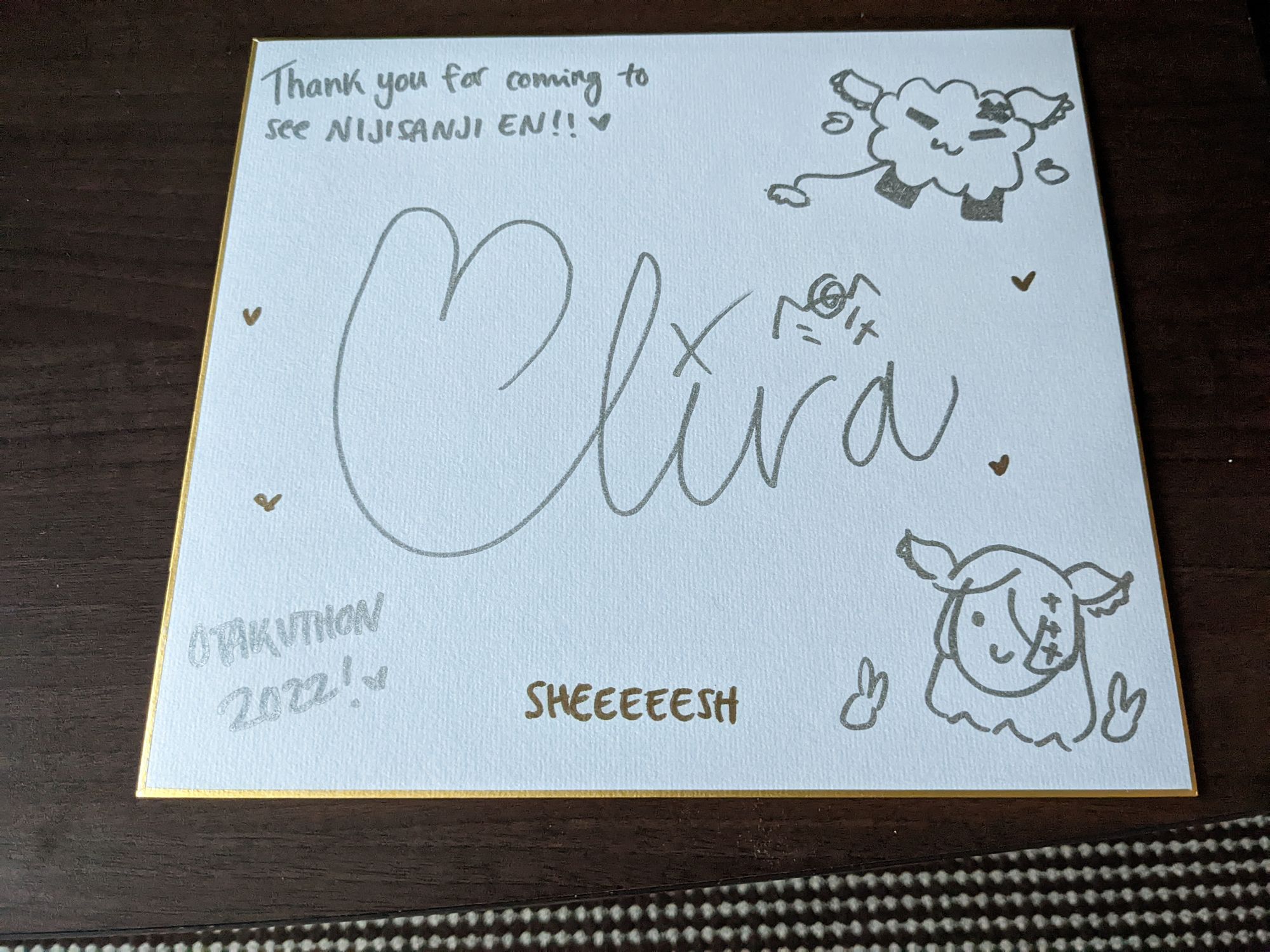 When it comes to the overall experience, even if Otakuthon 2022 wasn't perfect, it was a great comeback for a convention that was canceled for multiple years due to the COVID-19 pandemic. Every convention will have something to work on and this one is no exception.
Would we come back in 2023?
Of course. Montreal is a great city to visit and Otakuthon is a unique and enjoyable experience. If you've ever wanted to visit Canada and see some of the French sights. Otakuthon is a great reason to visit.
~Otsukare